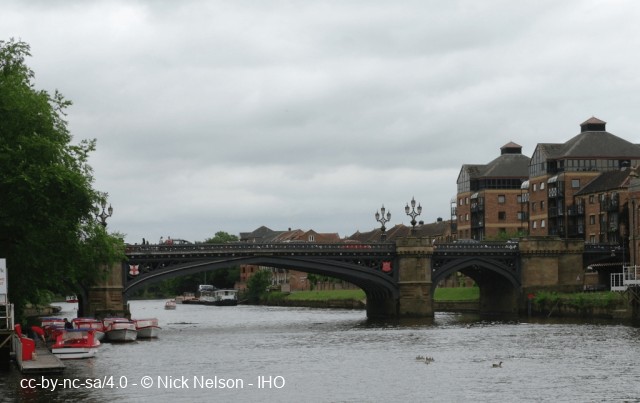 Description and History of Site:-
Skeldergate Bridge, is a cast iron bridge with Gothic details. The parapet is decorated with ornate ironwork featuring trefoils, six-pointed stars and the white rose of York. The original design of Skeldergate Bridge was altered during planning to enable the north-easternmost span of the bridge to open, allowing tall ships to reach the busy quaysides further upstream. The bridge was last opened in 1975 and the winding mechanism has since been removed. It was originally built as a toll bridge. The toll-house, which also housed the winding machinery, still remains. The foundation stone of the new bridge was laid in 1878 and the completed bridge officially opened to pedestrians on 1 January 1881 and to general traffic two months later. The original architect behind the construction was Thomas Page, who also designed Lendal Bridge in York and Westminster Bridge in London. When Thomas Page died at an early stage in the development, he was succeeded by his son, George Page.
Further Reading and References:-YAHS - Hatcher Card Index. Research funded by the Yorkshire Arts Association 1972.
Hatcher, J. The industrial architecture of Yorkshire. Phillimore, 1985, p71.
Help us improve this entry
The compilers welcome corrections or additional information on all sites.
Any information provided will be verified before appearing on the web site.
Email comments
Key Words :- bridge road river basculeViewing the Site :- Visible from the public highway and the River Ouse.Linked Sites :-Address :- Bishopgate Street, York, North Yorkshire, YO1 9WJ
Grid Ref :- SE 60393 51289
Co-ordinates :- Lat 53.954179 , Long -1.081179
Local Authority :- York City Council
Pre 1974 County :- Yorkshire - North Riding
Site Status :- Listed - Grade II
Historic England List No - 1256602,
Site Condition :- Operational site, in use for original purpose
Site Dates :- 1881 -
Contributor :- Daniel Balmforth - 4 July 2015

Copyright :- cc-by-nc-sa&nbsp4.0 © Daniel Balmforth